For giraffes, it is important to be tall so they can reach the leaves that are high up in the trees. Since they eat the leaves that are up so high, they don't have to worry about other animals eating their food. There is an advantage to being the tallest animal in the world! This brings us to our next question...




Look at this giraffe eating! What do you think he is munching on?

Giraffes eat the leaves from the Acacia tree. Below you can see a picture of some of these trees. Look how tall they are! No wonder the giraffe needs a long neck!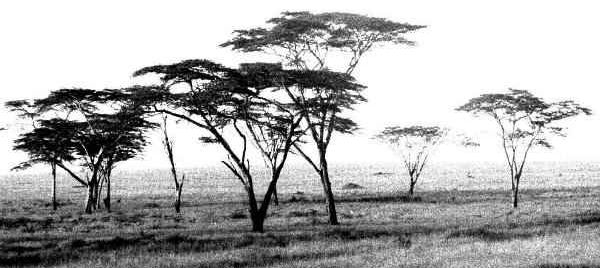 Photo by John Oswalt


The English word "Giraffe" comes from the Italian word "Giraffa."
The Italian word probably comes from the Arabic word "Zarafa."
No one is sure where this Arabic word came from. Most people think it originally came from an African language.

The ancient Romans called this animal "Camelopardalis" which meant "A camel marked like a leopard"


A lot of people think that giraffes don't make any sounds, but this isn't true. Usually they're silent, but at times, they do make some noise!
Calves (baby giraffes) bleat and make a mewing call.
Cows (female giraffes) seeking lost calves bellow.
Courting bulls (male giraffes) sometimes let out a loud cough!
Also, giraffes have been heard snorting, moaning, snoring, hissing, and making strange flutelike sounds!


Giraffes have two ways of getting around: walking and galloping


They gave kind of an ambling walk, First, they put all of their weight on the two right legs, then they put their weight on their two left legs, just like camels. The long neck sways forward and back as they walk to help them keep their balance.
While galloping, the front legs move together and the back legs move together, like a running rabbit!
What's the top speed of a giraffe? 37 miles per hour (That's about 60 kilometers per hour)